Every episode of "Rick and Morty" Season 5 has been filled with strange moments, and the fourth episode of the Adult Swim show, "Rickdependence Spray," continues the trend — in fact, the great part of its plot is impossible to explain in a family-friendly setting. Let's just say Morty (voiced by Justin Roiland) pays a visit to Beth's (Sarah Chalke) job, and things spiral out of control to the point that one of the most terrifying elements of the episode is a violent, man-eating underworld race known as CHUDs.
The CHUDs in "Rick and Morty" are humanoid horse-people who live underground and can burrow through the dirt. They appear to be at odds with humanity — or, at the very least, Rick (Roiland) and the President of the United States (Keith David), which is all it takes.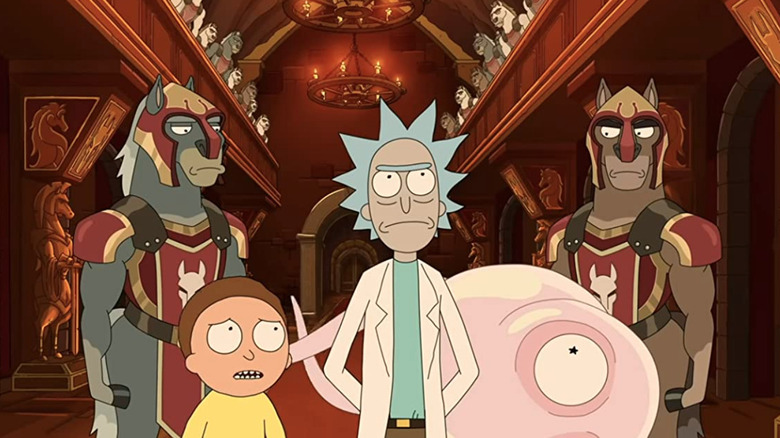 Related – Call Me Kat Season 3 Release Date, Cast, Plot, Trailer, And More
They also enjoy eating people, to the point where they have a carefully choreographed chant that recounts the event in detail, right down to the inevitable digestive issues.
They aren't just that, though.
So, what are the CHUDs from Season 5, Episode 4 of "Rick and Morty"?
CHUDs are a nod to the infamous 1980s film monsters.
Fans of questionable 1980s sci-fi horror will immediately identify the CHUDs' entire "underground humanoid who eats people" style as a not-so-subtle homage to "C.H.U.D.," a 1984 film about a race of mutant monsters known as Cannibalistic Humanoid Underground Dwellers. Granted, the original "chuds" are rubbery, glowy-eyed reptile monsters rather than a horse warrior species with a penchant for ridiculous war cries, but this is "Rick and Morty," so everything has at least three layers of twists and allusions.
Related – Rutherford Falls Season 2 – Update on Release Date, Cast
"C.H.U.D." is a bit of a stinker, according to Rotten Tomatoes, but it has certain notoriety that transcends its creative virtues. In reality, Justin Roiland and Dan Harmon aren't the only pop culture aficionados who have recently experimented with "C.H.U.D." Jordan Peele's 2019 horror film "Us" made a subtle allusion to the film.