Jasmine Tookes was born on February 1, 1991, in Huntington Beach, California. She used to be a Victoria's Secret Angel and is a successful American model.
In 2020, the former Victoria's Secret model became engaged to Juan David Borrero, an executive at Snapchat and the son of Ecuador's vice president. The couple got married in Quito, Ecuador, on September 4, 2021.
Read on to find out everything we know about Jasmine's husband Juan David Borrero's Instagram, age, and Net worth.
Juan David Borrero Biography
Juan David Borrero works for Snapchat as the director of International markets. He's 32 years old and went to Stanford University to get a BA in Economics and International Relations.
Doctor Alfredo Borrero Vega is the Vice President of Ecuador. He's Juan's father. When he was sworn in as president in May 2021, Jasmine and Juan were there, as were Juan's three siblings.
Between 2012 and 2013, he worked at the investment firm Merrill Lynch as a sales and trading analyst. In 2013, he got on Snapchat.
Also read: Who Is Gareth Bale's Wife? Know About His Net Worth!
On his LinkedIn page, it says that Juan was Snapchat's 23rd employee and that he has worked in a number of different roles over the years, including helping to launch products, run marketing campaigns, and raise money.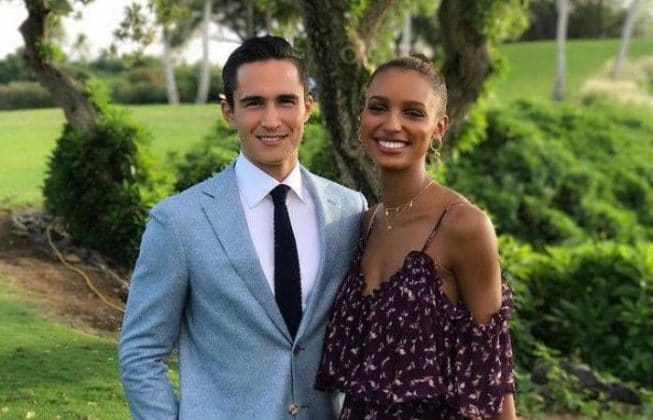 In his LinkedIn profile, it says, "He led Snap's first-ever partnership talks with the International Olympic Committee and FIFA for the Olympics and World Cup." Because of this, 80 million people watched Snap's coverage of those events, which brought in millions of dollars.
Know About Juan David Borrero's Net Worth
Juan's wealth is thought to be between $6 million and $10 million. Most of his money comes from his job as an executive for Snapchat.
Given how quickly Snapchat has become popular over the past few years, it's not surprising that CEO Evan Spiegel's wealth has gone from $1.4 billion to $3.7 billion.
Juan is a high-ranking executive at the IT company. The exact amount of money he earns each year is a closely guarded secret, but it's safe to assume that he makes a lot.
It is expected that a Snapchat employee will make $106,192 a year. A story in People says that Juan's proposal ring to Jasmine was worth more than $250,000. His wife, Jasmine Tookes, is worth around $8 million.
When Did Jasmine Tookes Meet Her Husband?
In 2016, when Juan's company, Snapchat, was releasing the Group Stories feature, Jasmine met her now-husband for the first time. Vogue says that Juan is the director of international markets at Snap Inc. At the time, the company wanted Jasmine and her friends to help promote the new feature. Jasmine says, "We were all in L.A. for a fashion show, so Juan, a couple of other Snapchat employees, and I went to lunch."
She also says that they had a "natural attraction" to each other and that "after lunch, Juan invited me to his birthday party that same night." There was a natural draw between them. Since that night, we've kept in touch, and the rest is history."
Also read: Who Is Sona Jobarteh's Husband? Know About Her Kids & Professional Career!
Jasmine also said that when she and Juan first started dating, they liked to go on vacations every year, which is where Juan proposed. "He told me to pack my bags early in the morning of September 21, 2020, because we were going somewhere," Jasmine said. "We met at a restaurant called Rose Café. This was our first stop."
Later, the two were at the Utah luxury resort Amangiri having champagne and a charcuterie board when a photographer pretending to be a hotel worker suggested that they go to a lookout point. Juan's plan was written on the ground. Even though there was a pandemic, the couple got married in Ecuador over Labor Day weekend, and Jasmine kept talking about how great the wedding was.
Jasmine and Juan seem to like traveling together, and if you look at their Instagram geotags, you can see that they've been to many places around the world on fun trips. Happy anniversary to that happy couple! Fans are glad that they were able to have a safe wedding.