Kevin Kesar, also known as Karrion Kross, was born in the United States on July 19, 1985. He works as a professional wrestler. He is currently working for WWE on the SmackDown brand.
Before joining WWE, Kesar wrestled as Kevin Kross and Killer Kross for Impact Wrestling, Lucha Libre AAA Worldwide (AAA), Major League Wrestling (MLW), and a number of independent shows. He was in the AAA stables of MAD and La Facción Ingobernable.
On season four of the American show Lucha Underground, he played The White Rabbit, the leader of Paul London's Rabbit Tribe stable.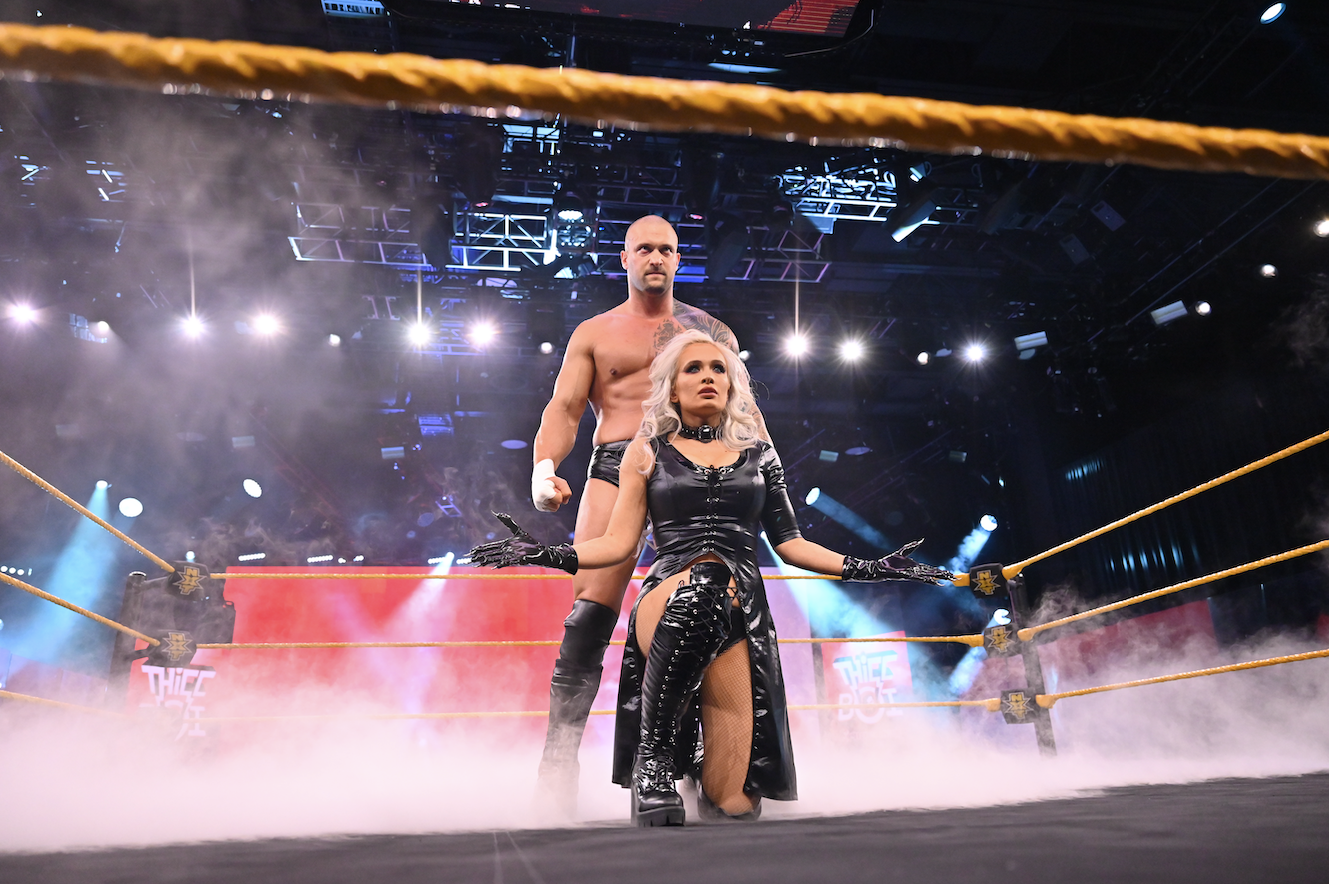 On the last episode of WWE SmackDown, Karrion Kross and Madcap Moss, who used to be the 24/7 Champion, got into a fight. After the fight, everyone with a camera was looking at him. Everyone is interested in Karrion Kross's wife. Read the article to find out the same things.
Know About Elizabeth Chihaia
Karrion Kross is married to Elizabeth Chihaia, who wrestles under the name Scarlett Bordeaux. In September 2021, they told everyone that they were getting married. Six months later, in April 2022, they were married on a glacier in Alaska in a beautiful but small ceremony.
Also read: Know About Harrison Bader's Girlfriend & His Family!
A white wedding, like in a fairy tale, was a big contrast to how bad they were as people. Scarlett even put a video of the wedding couple on her Instagram account. She wrote in the caption, "We ran away to get married on a glacier!" Full video📽- https://youtu.be/pSr4JWPNQnI Thank you so much to @wildheartsevents, @thewildandbeloved, @rachelstruve.photography, @vibe.artistry, and @cassiethompson for making our adventure elopement possible!
Elizabeth Chihaia is an American model, singer, and ring announcer who also works as a professional wrestler. On May 13, 1991, she was born. At the moment, she has a contract with WWE and works for the SmackDown brand.
People also know that she has been on Lucha Libre AAA Worldwide, Ring of Honor (ROH), and Impact Wrestling. She has also wrestled in the Ohio Valley Wrestling (OVW) and indie wrestling circuits, such as AAW Wrestling, Chikara, and Combat Zone Wrestling (CZW).
What Happened in the Fight Between Madcap Moss and Karrion Kross?
Karrion Kross and the former 24/7 Champion Madcap Moss fought on the most recent episode of WWE SmackDown.
Three weeks ago, when they met on the blue brand, the Doomwalker beat Madcap with the Kross Jacket. Before the match started, Madcap's real-life partner Emma talked to him about what had happened three weeks before in the Gorilla Position.
Also read: Who Is Shayna Baszler's Husband? All You Need To Know!
Scarlett was with Karrion Kross, who was with his wife. Moss had a lot of offense in the match, as he used multiple clotheslines to knock Kross down. After the latter got hit with a fallaway slam, he left the ring to get his thoughts together.
Scarlett then went outside to talk to Madcap. Kross put him in the Kross Jacket when he got back into the ring, but he was able to get out of it. He then slammed the former NXT Champion to break the hold, but Karrion put the hold back on Madcap Moss and made him tap out.
Even though the other player was out of the game, Kross wouldn't give up. Then, people from WWE came out to talk about what was going on. Emma ran into the ring to check on Madcap Moss as soon as the Doomwalker finally let go.