Nick Cannon and his girlfriend Alyssa Scott are now the parents of their 12th child. On Thursday, the model posted an emotional video to Instagram of Nick Cannon giving birth to his 12th child, a daughter named Halo Marie Cannon. The video showed the 42-year-old American TV host in the hospital. On December 14, Halo Marie Cannon was born. Scott also showed off her tattoo for their late son Zen, who died of a fast-growing brain tumor when he was only five months old on December 5, 2021. The proud mom wrote in the caption, "December 14, 2022. Our lives will never be the same."
Nicholas Scott Cannon is a TV host, actor, comedian, and rapper from the United States. Nick Cannon has had a lot of different jobs since he began his career in 1998. He has been an actor, a comedian, and a host, among other things. But when he's not on camera, the host of The Masked Singer has done what may be his most important job: he's been a father to many people. He told PEOPLE in a May interview, "I'm so happy about all my kids." "Always and from every side. From when they were in first grade and won "Citizen of the Month" awards to when their kids were born. I'm happy to be a dad every day."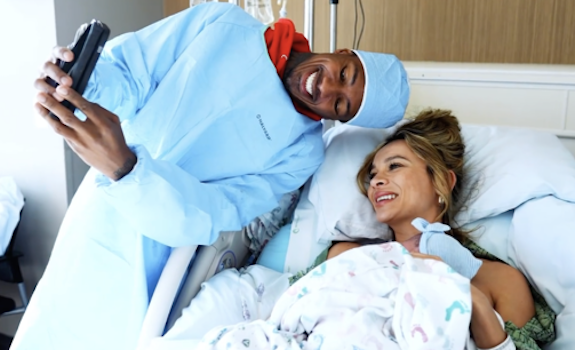 Meet Nick Cannon's Wife, Alyssa Scott
Alyssa Scott is a model, and she has 281,000 followers on Instagram. She often posts photos of herself wearing clothes, swimsuits, and lingerie that she has modeled for different brands. She seems to have started modeling when she was a teenager, but we don't know for sure. In 2015, she put up an Instagram photo of herself with an old LuLu ad. Since Scott was on Cannon's show Wild 'N Out, it seems likely that the show is what brought them together.
Also read: Who Is David Draiman's Wife, Lena Yada?
In May 2021, in an Instagram post that has since been deleted, Scott gave her first hint that Cannon was the father of her second child. Fans figured out that the name "Zen S. Cannon" next to the photo of her naked belly was a hint to the baby's father. Four months later, Scott told her Instagram followers that she was going to have a boy. She also posted photos from a naked maternity shoot in which she gave the name "ZEN S. CANNON" to the baby she was going to have.
The baby was born in June 2021, the same month as the birthdays of his half-brothers Zillion and Zion. In December 2021, Cannon said that his son Zen had died because of a brain tumor. During a health scare with their child, he told Scott, "You're the strongest woman I've ever seen."
Know About Nick Cannon's Past Relationships And Their Child
In 2011, Moroccan and Monroe were born to the host of Wild 'N Out and his then-wife, Mariah Carey. Five years later, they got a divorce, and since then, they've been taking care of their son and daughter together. In an interview with Us Weekly in April 2019, the former host of "America's Got Talent" said this. "I always want what's best for my kids."
Also read: What Is Jason Peters's Net Worth?
Brittany Bell and Abby De La Rosa also have two children. In February 2017, Bell had a son named Golden, and in December 2017, she had a daughter named Powerful. In June 2021, Abby had twin boys named Zillion and Zion. In January 2022, the baby shower for Bre Tiesi and Cannon was a big story. He said on his talk show the next day that he was expecting his eighth child, which would be the first with the model. In July of that year, the couple had a baby boy. In August 2022, Cannon told Bell that they were going to have their third child together.