Rose Matafeo found herself onstage at London's "Magic Mike: Live" having a bizarre, slightly anxious chat with a gyrating Australian dancer only a few weeks before she was meant to start filming "Starstruck" in March 2020.
"As he was forcing me to touch his chest, he said, 'Do you think you're going to go back?' 'All of the planes have been cancelled!' Matafeo, a New Zealander, recalls the incident with a giggle that still makes him laugh two years later. "It was the strangest thing."
Despite the extended wait, she was able to film the first season of "Starstruck" later that year — and, not for nothing, emerge with a newfound love for "Magic Mike: Live," which will premiere on HBO Max on Thursday.
STARSTRUCK Official Trailer (2021) 
Matafeo has spent most of her life looking for comedy everywhere she can, just as she did on that stage. She was enamoured with "Flight of the Conchords" as a kid in New Zealand, wore out Mitch Hedberg CDs, and devoured Jerry Seinfeld's "Seinlanguage" from the library.
She went on to write her own standup routine for a local comedy festival and work at an Auckland club to gain further experience. "I enjoyed movies and dramas, but I always gravitated toward comic parts," Matafeo understands now, since "taking oneself seriously as an adolescent is fucking humiliating."
She won the Edinburgh Comedy Award for her 2018 special "Horndog" (now available to stream on HBO Max) and gained new followers as a competitor on the popular game show "Taskmaster" after relocating to the United Kingdom. Matafeo was well-known to her "Starstruck" co-star Nikesh Patel before auditioning for the programme. He recalls, "I was a fan of her stand-up and had gone to a couple of her concerts." "I just thought she was so lovely and hilarious."
The first season of the programme premiered in 2021 to acclaim, with critics hailing it as one of the greatest romantic comedies on television in years. Matafeo's effervescent portrayal as Jessie, a bright and sceptical lady who mistakenly sleeps with a shockingly low-key movie star (played by Patel) before falling for him even more unexpectedly, was a breath of new air. It's no wonder that Matafeo — the show's creator, star, and co-writer — has now received a whole new level of recognition (including a position on Variety's Best TV Performances list).
Matafeo's years of self-promotion as a stand-up comic suddenly took on new meaning when she was cast as the accessible face of the next generation of romantic comedies. "You become weary of the sound of your own voice at some point," Matafeo acknowledges. "But it's also great when you're promoting something like 'Starstruck,' into which you've put a lot of time, work, and love." It makes me happy. "The show is fantastic."
Matafeo has generally kept a low profile between the premiere of Season 2 in the United Kingdom in February and the United States in March. She intended to tweet behind-the-scenes information while the programme aired on BBC3, but by the third episode, she had entirely forgotten about it and instead went to an escape room with pals. She spends most days doing what she refers to as the "Mrs Dalloway of East London" style of life, which entails purchasing flowers and roaming around the city. She says, "I have a lot of things to do, but I also have nothing to do." "I'm sort of semi-retired," she says.
At the very least, this level of inertia represents a substantial shift from recent years. The second season of "Starstruck" started filming only one day after the first, leaving her and the rest of the team with little time to process the show's continued popularity. However, as the filming progressed, more and more individuals on site started to recognise them.
"Sometimes in London, there'll be extremely surprising males who say, 'STARSTRUCK!' [finger guns] It's fantastic!' With a chuckle, Mataeo says. "Watching this lovely little rom-com just exposes so much about them." They're my kind!"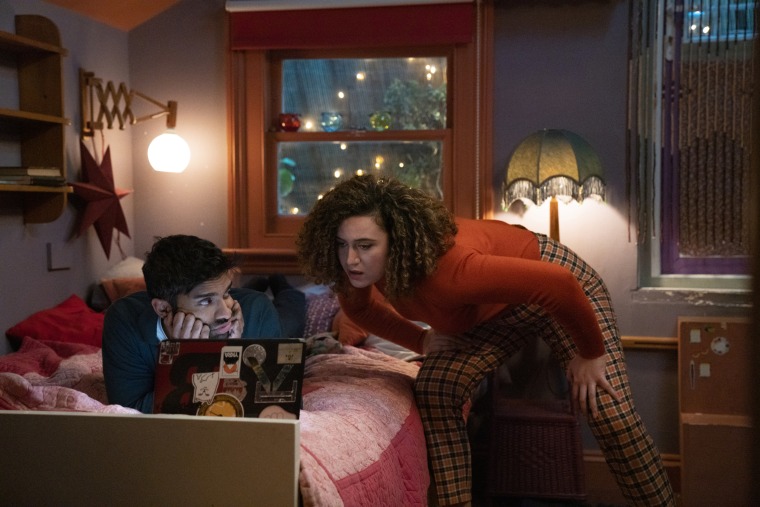 A year later, Matafeo is gearing up for another round of questions about "Starstruck," herself, and the rom-coms that inspire both, which she answers with sparkling passion. Consider her ardent view that Sandra Bullock's "totally exceptional slapstick" qualifies her as an underappreciated physical comic on par with Buster Keaton ("her falling down in "Miss Congeniality" is genuinely wonderful"). Bring up "Bridget Jones' Diary," and she'll passionately explain why it belongs in the Criterion Collection ("I'm not joking.") They fucking need to mess up!").
Despite the romantic comedy woven into the fabric of "Starstruck," what originally made the programme so distinctive, and what gives Season 2 its added bite, are the ways she and her partner Alice Snedden apply their own experiences to the show. This, along with Matafeo and Patel's warm and enticing chemistry, elevates what could have been a simple tribute to love comedies to a new level of realism.
When it comes to co-writing with a buddy, Matafeo adds, "our personal history will become as much a source for allusions as a film." "Like, 'Remember that terrible argument you had with such and so?' 'Do you remember when I talked you out of it and you were weeping on the way home, or when you showed up at my house in tears?' Writing with your closest buddy becomes such a valuable asset. You may instantly start using it."
They (together with new writer Nic Sampson) needed to tap into their common backgrounds even more for Season 2, which had no choice but to reveal what's on the other side of a love story's customary "happy ending." After the first season ended with Jessie electing to stay with Tom rather than return home to New Zealand, the second begins with a quick cut from their loving kiss to Jessie freaking out seconds later.
"We had written a second series at the same time we were filming the first one," Matafeo explains. "At the conclusion of season one, we concluded that a time leap would suffocate us… "Rather of making an audience piece it together, we just went with, 'Let's witness every instant of it develop.'"
Despite the fact that Jessie apparently opted to remain in England for Tom, she continues to refuse to acknowledge or define their relationship, much to Tom's chagrin. Season 2 then allows Matafeo and Patel to delve even deeper into their characters' special relationship. Rose is a natural collaborator, adds Patel. "Being in the presence of comedians who are also great actors — since they don't always meet, and vice versa — gives you a lot of confidence to push or heighten a line."
As Tom and Jessie figure out what they really want out of a relationship, the programme also provides valuable insight into what it means to love and be loved. Jessie is never desperate for a boyfriend, and Tom never doubts his attraction to her, which is a nice change from the normal dynamic. He likes her so much since she's already a whole person.
"We never walk into the writers' room with the idea of flipping something on its head." Everything is driven by those personalities and what we believe is authentic to them," explains Matafeo. "It's somewhat unusual to see the 'typical' roles reversed, in the sense of a male desiring commitment and a woman not wanting to commit," she concedes.
Playing a character like Jessie, who can crack a joke and captivate Tom no matter what is clearly soothing for her. While she invests a lot of herself in the persona, she is eager to point out the disparities. "I'm a lot more romantic than Jessie," Matafeo, a Pisces who compares herself to Shirley MacLaine's lovelorn "Sweet Charity" protagonist and used to conclude her "Horndog" performance completely sobbing to K-pop, adds. "To my own disadvantage, I seek love so hard."
She claims that Jessie is "much more certain and principled" than she is. "She frequently defends herself. Matafeo continued with a wry smirk, "I genuinely am not like that." "If it meant that someone liked me, I would change my entire demeanour." (For what it's worth, Jessie's zodiac sign is somewhere between Scorpio and Aries, according to Matafeo.)
Related – The Forest – ENDING EXPLAINED!
However, the two share one essential personality characteristic, which Matafeo is particularly pleased to have included in her own version of the rom-coms she grew up admiring.
"I really appreciate seeing women in films and television," she says. "It's a curiously low bar, but there's something contagious about characters that revel in the fucking wild ups and downs of life." Matafeo can at least relate to that. "We enjoy even the crap portions." We're simply like, 'Fuck yeah,' while we're going through the worst portion of life. This is what it is to be alive.'