The wait for the new season of Netflix's grandiose superhero extravaganza "The Umbrella Academy" has been torturous for fans. That explains a lot about how things ended in the Season 2 conclusion, with the time-hopping Hargreeves staving off another terrible disaster and returning to their own timeline. When they arrived, however, they discovered that their house had been taken over by The Sparrow Academy, a new gang of supers.
To be sure, it was a bizarre turn of events that few fans of the show could have predicted. It also hinted at another genuinely wild journey for Season 3, which fans have been eagerly anticipating. Thankfully, we'll learn about the Hargreeves faction's woes soon enough. So far, here's all we know about Season 3 of "The Umbrella Academy."
When will The Umbrella Academy Season 3 be available?
It's hard to imagine, but it'll have been nearly two years since the shocking Season 2 conclusion of "The Umbrella Academy" premiered on Netflix. Season 2 ended on a high note, with a slew of big plot surprises. Not to mention the fact that Lila Pitts (Ritu Arya) is one of the Hargreeves' super "siblings" and a phenomenally powerful mimic, which was revealed just before she vanished into the unknown via one of those handy Commission cases.
Even while The Umbrella Academy's dance with The Sparrows is expected to dominate the Season 3 plot, there's undoubtedly more to come with that story. Fans will get to witness those plots play out before the two-year anniversary of the show's last episode, according to a recently published teaser (more on that later). Season 2 of "The Umbrella Academy" premiered on July 31, 2020, and Season 3 will premiere on Netflix on June 22, 2022.
Who will star in Season 3 of The Umbrella Academy?
Given how "The Umbrella Academy" Season 3 was set up, there will undoubtedly be a lot of territories to cover in terms of plot. Fans of the first two seasons of the show will be pleased to learn that Tom Hopper, David Castaeda, Emmy Raver-Lampman, Robert Sheehan, Aidan Gallagher, Justin H. Min, and Elliot Page will all return in the forthcoming season (per Polygon). Fans should be equally pleased to learn that Ritu Arya will reprise her role as Lila Pitts in Season 3. Colm Feore will reprise his part as Sir Reginald Hargreeves, with Adam Godely extremely certain to reprise his role as Pogo's voice, and Jordan Claire Roberts a safe bet to reprise her role as Grace.
With the addition of The Sparrow Academy to Season 3, the cast of "The Umbrella Academy" grows dramatically. Justin Cornwell, Britne Oldford, Jake Epstein, Genesis Rodriguez, and Cazzie David are among the new additions to that motley ensemble. It's anyone's guess who else may show up in Season 3, but despite the events of the second season finale, we wouldn't be surprised to see Kate Walsh's The Handler, Marin Ireland's Sissy, and some form of her now-powerful youngster, Harlan (Justin Paul Kelly), appear.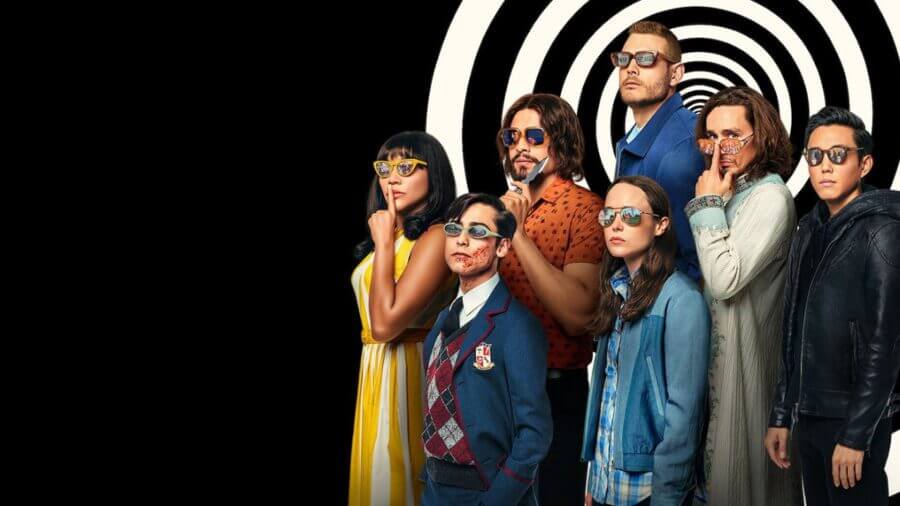 Season 3 of The Umbrella Academy has been teased by Netflix.
What the super-sized ensemble of "The Umbrella Academy" will be up to in Season 3 is unknown, as Netflix has yet to produce a decent teaser for the new season. Despite this, speculation abounds that the upcoming season will cover the "Hotel Oblivion" plot from Gerard Way and Gabriel Bá's source material. If this is the case, we're in for a real treat.
Related – Flashback – ENDING EXPLAINED!
In the meanwhile, Netflix has published an intriguing teaser for Season 3 of "The Umbrella Academy." It's short and doesn't reveal much, but it appears to suggest that Season 3 will continue up just where Season 2 left off, with Luther (Tom Hopper) and his crew staring off their putative successors — not to mention their long-deceased sibling, Ben (Justin H. Min) — in The Sparrow Academy. Those teams don't seem to get along in Sir Reginald's elegant library, based on the new teaser. At the very least, the thought of the Season 3 premiere featuring full-fledged brawls between The Sparrows and The Umbrellas should make us all eager for June 22, 2022, to arrive.