What Is Rob Gronkowski's Net Worth?
Rob has a net worth of about $45 million, according to the Celebrity Net Worth.
During his second year of college in 2010, the football player was selected by the New England Patriots. Rob won three Super Bowls while he was a member of the NFL team.
Rob signed a $54 million extension with the Patriots back in 2012. At the time, it was the most costly contract signed by a tight end in the NFL with a team.
Rob was acquired by the Buccaneers in a trade with the Patriots in 2020, and he played in all 16 of the team's regular-season contests as they won Super Bowl LV.
According to the Celebrity Net Worth, the celebrity makes $9 million a year in income.
Rob has established himself in the showbiz industry in addition to his illustrious NFL career.
Also Read: Know XCRAFT's NET WORTH – AFTER SHARK TANK!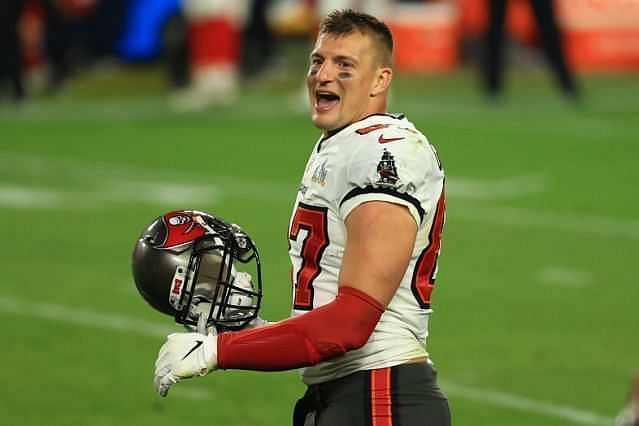 Early Life
Robert Gronkowski was born on May 14, 1989, in Amherst, New York. He grew up in Williamsville with his mother Diane, his father Gordon (a former Syracuse University football player), and his brothers Glenn, Dan, Gordie, and Chris, all of whom have played professional football. Rob's favorite sport was hockey until he was 14. After that, he decided to switch to basketball. While at Williamsville North High School, he played football (tight end, defensive end, and freshman kickoff specialist), basketball (center), and baseball (first baseman). When his family had moved to Pennsylvania, he played football for Woodland Hills High School. Gronkowski was named to the All-Western New York first team, a SuperPrep All-American, and an Associated Press Class 4-A All-State player while he was in high school. Rob was recruited by more than one college, but he opted the University of Arizona after he graduated from high school in 2007.
Why Is NFL Star Rob Gronkowski Retiring?
Rob announced on Twitter on June 21, 2022, that he will be waving goodbye to football once more.
He posted a picture of himself and a screenshot of a message that he had written.
Rob wrote in the post, "And for this, I want to thank the whole entire first class buccaneers organization for an amazing ride, trusting me to come back to play and help build a championship team," Rob wrote.
"I will now be going back into my retirement home, walking away from football again with my head held high knowing I gave it everything I had, good or bad, every time I stepped out on the field.
"The friendships and relationships I have made will last forever, and I appreciate every single one of my teammates and coaches for giving everything they had as well."
Also Read: Jon Stewart Net Worth – Personal Life, Career, Real Estate
"Thank you to everyone," he continued, "from retirement to returning to football and capturing another championship to now returning to relaxing.
"Cheers to what comes next, perhaps sailing the seas, aarghh!"
In order to play for the Buccaneers in 2020 and 2021, Gronkowski came out of retirement in 2019.