Killing Eve is one of the most enthralling and fascinating television programs ever created. The BBC America series begins with Eve Polastri (Sandra Oh), a mild-mannered MI5 operative, being recruited into the covert MI6 team of Carolyn Martens (Fiona Shaw). Her mission is to find Oksana "Villanelle" Astakova (Jodie Comer, who you may recognize from her role as Rey's mother in The Rise of Skywalker), a psychopathic assassin working for The Twelve, a mysterious organization led by Konstantin (Kim Bodnia, who will play Vesemir in The Witcher's upcoming season).
However, there are many more perspectives and sides to things than first appear, and the plot tends to go in unexpected directions. Villanelle leaves a trail of bodies in her wake, but this isn't a serial killer drama. There are plenty of scary parts, but there are also plenty of scenes that will make you laugh out loud. Oh, and there's romance, but things aren't as simple as they seem in Killing Eve.
Killing Eve Season 4 Trailer (HD) Final Season
Related – LEGACIES SEASON 5 – CANCELED!
Killing Eve is a spy thriller, black humor, and eccentric drama packed into one – and then some.
The show's three seasons have been well received by the public, but what about the future? The following is everything we know about Killing Eve season 4's release date, cast, and plot.
When will Killing Eve season 4 be available?
Killing Eve's first three seasons had a delightful consistency to them.
The first season of the show began on April 8, 2018, followed by season 2 almost a year later, and season 3 premiered on April 17, 2020.
Season 4 fans can rest easy knowing that the program was renewed for a fourth season before season 3 ever aired. However, we may have to wait a little longer than April 2021 for Eve and Villanelle to resume their unending game of cat and mouse, as Season 4 of Killing Eve recently received some sad news.
The show's fourth season is one of many TV and film productions affected by the COVID-19 outbreak, and while it will undoubtedly return, filming has been postponed indefinitely (via Deadline). Because the show's events take place in a variety of nations, it's currently incredibly difficult to travel safely between them. The show's spokesman said, "Several European sites are used in the filming of Killing Eve.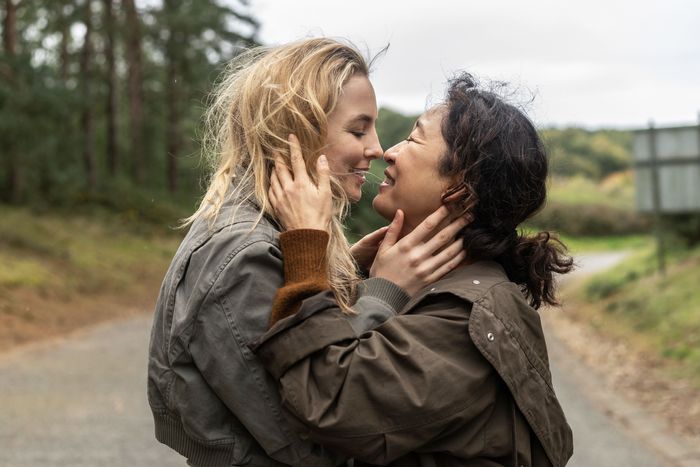 Season 4 cast members
Despite the fact that Killing Eve has a high corpse count, several significant characters have survived to fight another day in season 3. Of course, Sandra Oh and Jodie Comer's roles as Eve and Villanelle are almost certain to return for season 4.
Carolyn Martens, played by Fiona Shaw, and Kim Bodnia's Konstantin Vasiliev, who maintains he isn't to blame for the death of Carolyn's son, Kenny, are both expected to return (Sean Delaney). Jaime (Danny Sapani), Audrey (Ayoola Smart), and Bear (Danny Sapani) are all likely to return as Eve's Bitter Pill allies (Turlough Convery). Carolyn's daughter Geraldine (Camille Cottin) is still alive, as is Hélène (Camille Cottin), a member of The Twelve (Gemma Whelan).
Surprisingly, Ava's husband Niko Polastri (Owen McDonnell), who looked destined to die at some point in the series, made it through the third season alive. However, this was not due to a lack of effort on the part of the show. Niko suffered and survived a difficult sequence with Villanelle, the loss of his colleague-turned-want tobe lover Gemma (Emma Pierson), the whole and complete destruction of his life, and even a pitchfork through the throat during the course of the season.
His body and spirit, though, have seen better days, and since he's now in Poland and hell-bent on getting out of Eve's life for good, it's unclear whether Niko and his wonderful mustache will return for Season 4.
What happens in the fourth season of Killing Eve?
Season 3 of Killing Eve leveled the playing field and gave the characters numerous options for new adventures, but it also left plenty of plotlines for season 4 to explore at its leisure.
The final bridge sequence in the season finale presented a terrific cliffhanger that will most likely define Eve and Villanelle's relationship future.
Overall, Season 4 of Killing Eve has the potential to deliver some of the show's greatest beats and most incredible moments yet. It can't come soon enough, to be honest.