Return to Resident Alien, the only TV program with a marital and family counseling master's degree! It doesn't truly feel that way, but it can. Resident Alien gives Maury Povitch a run for his money in terms of how it puts its protagonists face-to-face with their unfinished business.
Patience, Colorado, is a deceiving crucible that lures people in with the promise of a happy life. Then, in the blink of an eye, they are slapped with a lifetime of shame.
So, how about we take a closer look?
The Vanderspeigles, for example. That's correct: Vanderspeigles is the plural form of Vanderspeigle. No, Harry's (Alan Tudyk) alien offspring haven't appeared anywhere. He has a wife, and by "wife," we mean his sort-of-ex-wife, Isabelle (Elvy Yost).
Isabelle surprised her alien doppelgänger at the cabin in "Love Language," with divorce papers that had not yet been signed. After five years of marriage and troubles in his medical practice, human Harry decided to flee to Patience. Others should consider themselves fortunate to be in his shoes.
Resident Alien 2×05 Promo "Family Day" 
Isabelle is perplexed and heartbroken by Harry's strange behaviour, which she expresses to him often and forcefully. Granted, alien Harry isn't accountable for any emotional harm caused by human Harry, but you know the old adage: if you can't bear someone else's baggage, don't wear their meat suit. Alien Harry is responsible for cleaning up the messes that his predecessor has made.
Sheriff Mike Thompson (Corey Reynolds) is dealing with thorny family problems as well, although it's less marital and more about domineering father issues.
Thompson had moved from Washington, D.C., to Patience to take the sheriff's job, and he had brought his chronically ill father with him. Although we only get a glimpse of their relationship when they're eating breakfast at Joe's cafe, "dysfunctional" is an understatement.
Mr Thompson resents Mike for relocating them so far away; he refuses his assistance; and he even chastises him for not solving Sam Hodges' murder yet, saying, "Looks like Sam selected the worst town to die in." Even if Sheriff Tompson isn't Cuddle Buddy of the Year, that's still a terrible blow.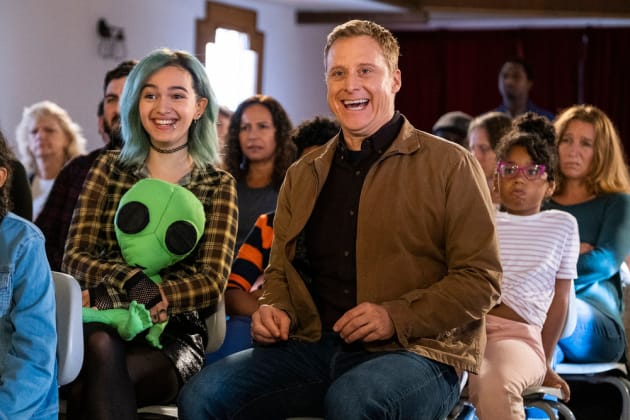 Is it any surprise that Sheriff Thompson is the alpha male of his jurisdiction? When he thought Patience was home to a serial killer, why was he practically dancing? He'll use any chance he can to impress his father. It's no surprise he has problems.
Asta's relationship with Jay might alternatively be described as "issues" (Kaylayla Raine). Asta (Sara Tomko) hires the daughter she put up for adoption 16 years ago as an intern at the clinic so she can keep an eye on her, according to Episode 5. Consider helicopter parenting, but with messages such as "I'm not a helicopter, I'm a balloon" shouting from the cockpit.
Jay discovers the truth while sorting a box of Sam Hodges' personal files. Asta delivered birth on Jay's birthday, according to one of the files. Jay immediately puts two and two together in a town where everyone knows each other's birthdate, rising sign, and social security number. She quits and rushes out of the clinic after saying a few harsh (but deserved) words to her birth mother. It'll take some time to finish this.
Resident Alien allows its characters to reconcile and heal despite all of the conflicts. Alien Harry and Isabelle resume their romance (the one they never actually had). When Deputy Baker informs Sheriff Thompson that Sam Hodges's toxicology result shows he was poisoned, he gets that joyful, it's-a-murder sensation. And Jay, slowly but steadily, demonstrates remarkable maturity and bravery by taking a seat at her birth grandfather Dan's (Gary Farmer) cafe and ordering the Family Special.
Related – Call Me Kat Season 2 – Current Updates on Release Date, Cast
Patience is a loving sort of severe on its subjects. Even brutal love.