Ricky Gervais' tragic and darkly hilarious story of widower Tony appears to be coming to a climax with the release of the third season of "After Life" on Netflix in January. Despite the fact that critics were less enthusiastic with Season 3 of "After Life" than in the previous two seasons, the show continues to be extremely popular with viewers (via Rotten Tomatoes). Unlike much of Gervais' past television work, such as "The Office (UK)," "Extras," "An Idiot Abroad," and "Derek," "After Life" combines his dry wit with deeper and more existential themes of bereavement, love, and loneliness.
The comedy follows Tony, a recent widower, as he attempts (and typically fails) to cope with the cancer death of his beloved wife Lisa (Kerry Godliman). Following Tony's resolve to simply not care about life and to utilize his "superpower" of being able to say anything he wants, whenever he wants, for three seasons, audiences have watched as he swings between despair, defiance, and at times outright cruelty.
After Life Season 3 Ending Explained
Tony's friends and coworkers overlook his poor behavior and try to help him move on with his life through his work at the Tambury Gazette, a small-town newspaper.
Gervais recently revealed in an interview with Radio Times that he will not be creating a fourth season of "After Life," leaving fans puzzled over the cryptic Season 3 ending and trying to figure out what happened to Tony.
Season 3 of After Life wraps up on an enigmatic note.
Season 3 of "After Life" re-enacts the series' overarching plot. Tony is still grieving, ruminating on Lisa's past, and attempting to come to terms with her death. He still drinks too much, torments and teases his coworkers, and uses his "superpower" to lash out at random individuals.
Tony makes efforts to participate more positively in life, sometimes at the urging of his brother-in-law Matt (Tom Basden), but these efforts frequently fail. While some commentators have criticized "After Life" for being repetitive, it's possible that's the intent. We must experience and identify with Tony's purgatorial paralysis, thanks to Gervais.
Tony does, however, progress season after season, and in Season 3, he goes further than he could before. Tony finally realizes that the real "superpower" isn't an unwillingness to care about the consequences of his actions, thanks to the generosity and patience of Matt, Emma (Ashley Jensen), and Anne (Penelope Wilton). Tony's decision to cash out Lisa's life insurance and utilize it to benefit others symbolizes the real superpower: caring and kindness.
Tony walks into the distance with Lisa and their dog Brandy in Season 3's last scene at the Tambury Fair. Lisa, Brandy, and Tony slip away one by one, leaving an empty field in their wake. Gervais reveals the significance of the film's cryptic finish in a recent interview.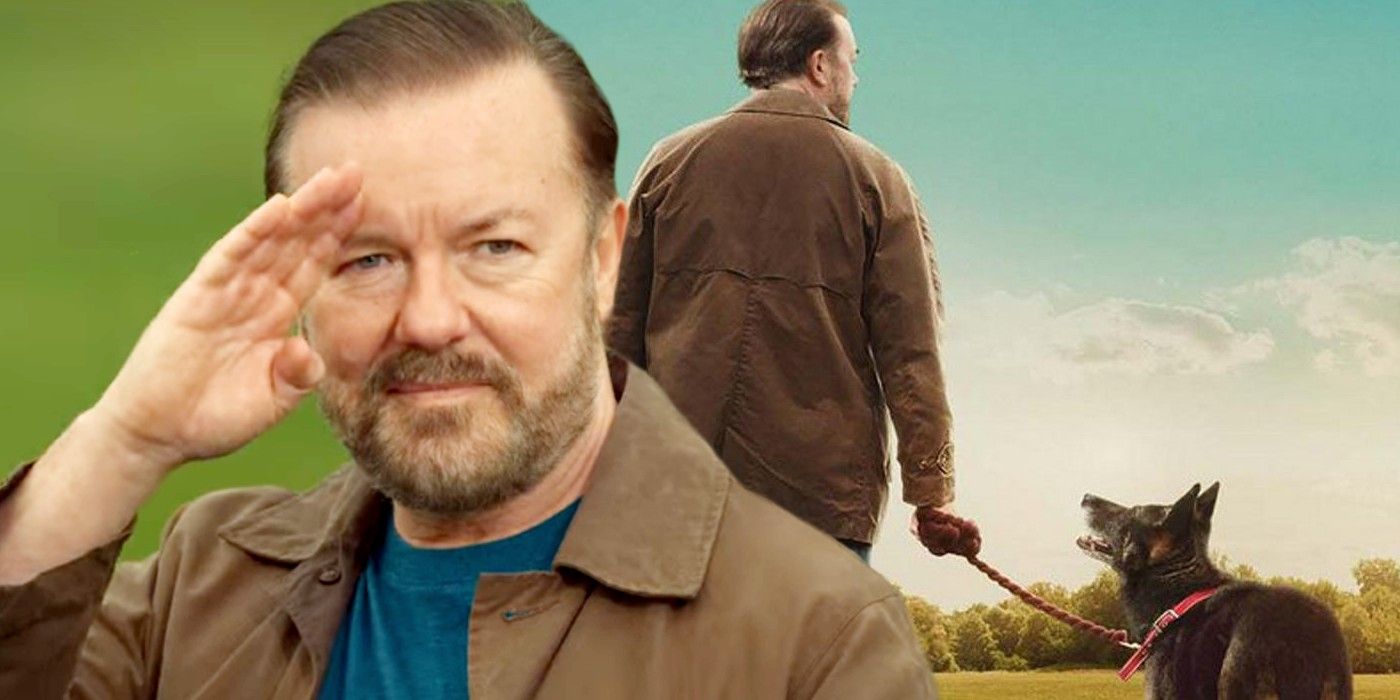 Season 3 should be uplifting, according to Gervais.
Unlike the Season 2 conclusion, which Gervais indicated was purposefully left open-ended, it appears that he had a very obvious and relatively straightforward explanation in mind for the Season 3 finale.
Gervais, along with fellow cast members Diane Morgan and Jo Hartley, spoke candidly about the season's last scene in an interview with DigitalSpy. "I think some people will find that upsetting," Morgan, who plays Kath, admitted, adding that viewers would think to themselves, "Oh, God, what does it mean?" "It's extremely nuanced, and it may signify different things depending on where you are yourself," Hartley, who plays June, said, adding that she is ambivalent about the finale.
Related – Rutherford Falls Season 2 – Update on Release Date, Cast
With that final mystical moment at the Tambury Fair, though, Gervais was very clear about the message he wanted to send. DigitalSpy was able to get a hold of him and he told them: "It's just, you know, life goes on. That field, the Tambury Fair, and that tree will all still be there when we're all dead and buried." Gervais summed up his series' final takeaway as follows: "That's exactly what the conclusion implies. 'We all die, but today isn't one of them.' Life is so short, so enjoy it while you can."
Gervais appears to have crafted a show with enough intricacy that individual spectators can walk away with their own interpretations, even with a clear-cut explanation of its finale.