Sebastian Korda, who is 22 years old, gave Novak Djokovic everything he had in the final of the Adelaide 1 tournament. The American reached his fifth ATP final, and for the fourth time, he lost. He lost 6-7, 7-6, 6-4, but he still came in second place because he blew a match point and kept Djokovic on the court for more than three hours.
As expected, Sebastian won't play in the Adelaide 2 tournament the week after that. He already has a lot on his plate before the Australian Open. Korda was supposed to play Emil Ruusuvuori in the first round, but he didn't because he wanted to save his energy for the Australian Open after Sunday's marathon.
Reports say that Sebastian and Novak pushed each other to their limits. In the whole match, there were only three breaks. Novak had only two break points, which almost cost him the championship. He fought off that match point at the end of the second set and made a late break in the third set to win and get his 92nd ATP title.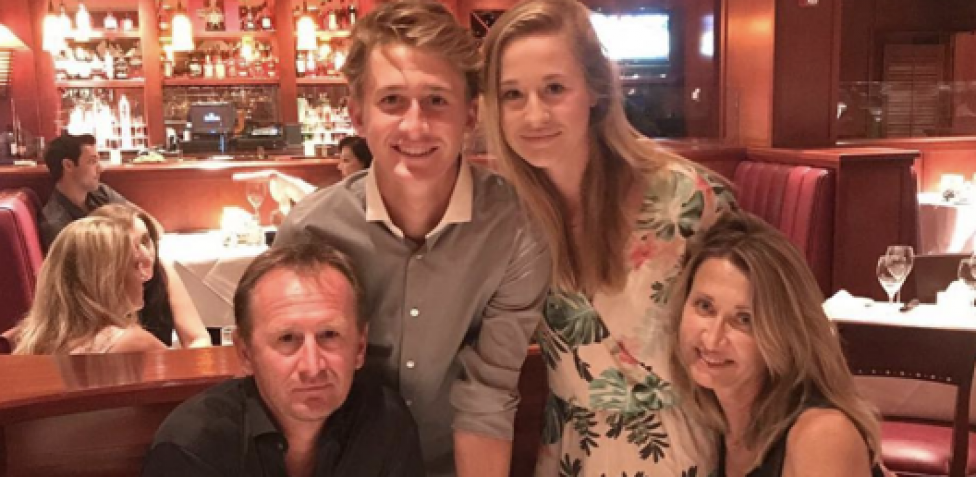 In Adelaide, Sebastian is still a great player. Fans from all around the world want to know more about the player. The player also has a lucky girlfriend who is very pretty. Read on to learn about Sebastian's girlfriend and his other relationships.
About Ivana Nedved, Sebastian Korda's Girlfriend
Ivana Nedved is in a relationship with Sebastian Korda, and they love each other. She was born on March 25, 1997, in Turin, Italy, to Ivana Nedvdová and Pavel Nedved.
Pavel Nedved, her dad, played soccer for the Czech Republic. Pavel Nedved is a football player who has won a lot of awards. In 2003, he also won the prestigious Ballon d'Or award. Pavel Nedved used to play for the Italian team Juventus as a midfielder.
Also read: Who Is Sam Howell's Girlfriend, Chloe Barbu?
Ivana Nedved was an intern at Alfa Romeo, where she worked in the brand management and communication management departments. Then, in 2019, she became an expert at managing luxury brands at Alfa Romeo. Ivana Nedved did a six-month internship as an assistant brand manager in marketing at CONI, which is a job that is similar to the one she now has.
Since 2020, she has had an internship at Conde Nast Italia. She is also an intern in Vogue Italia's editorial department. Ivana seems to have a lot of fans on social media as well. She has 78.2k Instagram followers and sometimes posts sponsored content as a fashion influencer.
Know About Sebastian And Ivana Love Life
Sebastian and Ivana began dating in 2021. On February 3, 2022, they had their first wedding anniversary. How they first met is something they haven't talked about. But everyone knows how much they care about each other.
Korda said that he was dating Ivana Nedved, who was in the crowd when he won his first ATP title.
Also read: Who Is Davis Webb's Girlfriend? All You Need To Know!
Because Ivana was there when Korda won the Parma Open, Sebastian called her his "good luck charm." Ivana posted a nice message on Instagram after the tournament in Parma: "Our first tournament together and @sebastiankorda's first win on tour! I've never been happier. ❤️🍀✨🤞🏻 Ciao Parma! Ci hai portato fortuna."
Since the Covid rules were less strict during the Clay season, the two went on a tour of Europe together. Tennis fans still don't know how the young couple first met. But the young couple has gained a lot of fans on social media, where Ivana sometimes posts photos of herself with Sebastian, giving fans a look into their relationship.