Tyrese J. Haliburton is an NBA basketball player from the United States. He plays for the Indiana Pacers (NBA). He played college basketball for the Iowa State Cyclones, and in the 2020 NBA Draft, the Sacramento Kings picked him up. He is a point guard. He is 6 feet 5 inches tall and weighs 185 pounds.
At the 2019 FIBA Under-19 World Cup in Heraklion, Greece, Haliburton led the U.S. to a gold medal and was named to the all-tournament team.
Now, people are interested in Tyrese Haliburton's girlfriend. In case you didn't know, Tyrese is in a relationship with Jade Jones, who is his girlfriend. We'll talk about their relationship and other things you should know about them in this post.
Know About Tyrese Haliburton's Girlfriend, Jade Jones
Jones and Haliburton met at Iowa State University, where Jones goes to school. Jones also has an Instagram account there. She was a cheerleader at Iowa State University for the basketball and soccer teams. In her Instagram bio, she says that she went to ISU and got a degree.
@jadeeejones is the name of Jade's Instagram account, which has 17.5k followers and 131 posts. She also has a VSCO gallery where she has put up many pictures of her dog and Tyrese.
Also read: Who Is Channing Tatum's Girlfriend, Zoe Kravitz's?
Jade Jones has kept a low profile and hasn't given the public a lot of information about herself. Tyrese is also very careful about his partner's privacy, as shown by the fact that he has never shared any private information about her.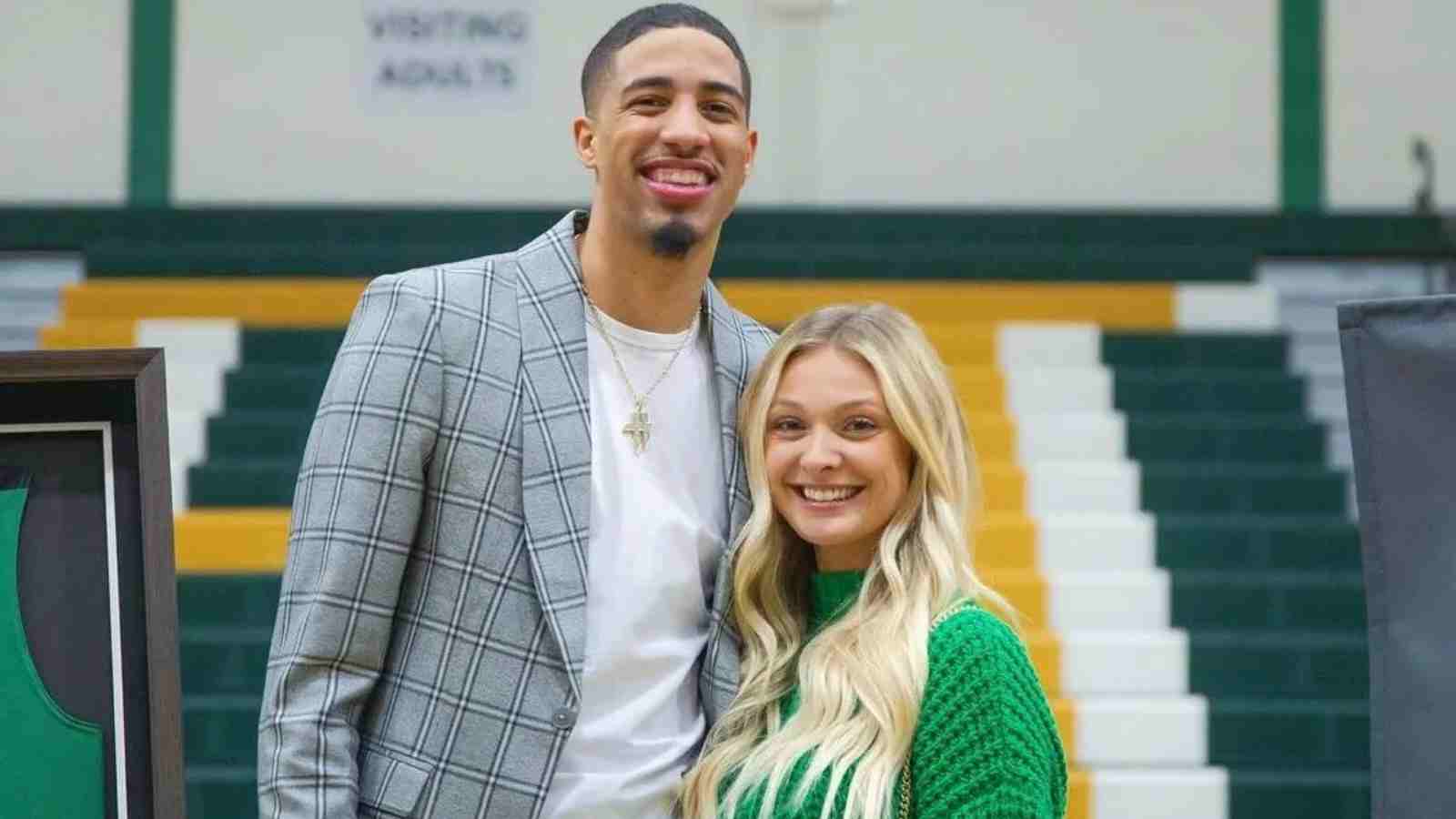 About Tyrese And Jade's Relationship
People say that Jade and Tyrese met at Iowa State University, where they both went to school. At the time, Haliburton was tearing up the court, and Jones had been a cheerleader for the basketball and soccer teams for the Cyclones. They've been together since 2019 when they started going out.
Tyrese posts a lot of pictures of himself and Jade on his Instagram. Last year, when it was her birthday, he posted, "Happy Birthday, Jade Elizabeth! Thank you for making me work every day to be a better person. Still, I can't believe you picked me to go through life with. The thing I want most is to get old with you. Here's to more parties for the rest of your life, girl!
Tyrese Haliburton's Professional Life
With the 12th pick in the first round of the 2020 Draft, the Sacramento Kings chose Haliburton. The Kings made it official on November 27, 2020, that they had signed Haliburton. On December 23, 2020, Haliburton made his NBA debut. In a 124–122 overtime win over the Denver Nuggets, he came off the bench and scored 12 points, had four assists, two rebounds, and a block. Haliburton had six steals in a 123–111 loss to the Washington Wizards on April 14, 2021. This was a career-high for him.
Haliburton hurt his left knee when he played against the Dallas Mavericks on May 2, 2021. Even though an MRI later showed that his ligaments were not hurt, the Kings said Haliburton would miss the last seven games of the 2020–21 season as a precaution. After the season, he was named to the NBA's All-Rookie First Team and came in third for Rookie of the Year.
Haliburton had a career-high 38 points, seven assists, three rebounds, and two steals in a 103–101 loss to the Philadelphia 76ers on January 29, 2022. He also had seven assists, three rebounds, and two steals. Haliburton beat the Oklahoma City Thunder 113–103 on February 5. He had a career-high 17 assists, 13 points, six rebounds, and two steals.
Also read: Who Is Nicole Byer's Boyfriend? Complete Information!
On February 8, 2022, the Pacers traded Haliburton, Buddy Hield, and Tristan Thompson for Justin Holiday, Jeremy Lamb, Domantas Sabonis, and a second-round pick in 2023. On February 11, in a 120–113 loss to the Cleveland Cavaliers, it was his first game with the Pacers. He scored 23 points and had three steals, three assists, and three rebounds.
Haliburton and Desmond Bane won the Clorox Clutch Challenge at the 2022 NBA All-Star Weekend. This was the 75th time that the challenge had been held.