Nicole Byer is an American comedian, actress, and TV host. She is known as the host of Nailed It! on Netflix, which is a funny reality show about bake-offs. For this role, she has been up for two Primetime Emmy Awards.
On New Year's Day, Nicole and her boyfriend Dan Black made their Instagram account public. She put up a bunch of pictures of them together with the caption, "I met my boyfriend in 2022. I really like this guy, @danblackattack. This is the first picture she's ever posted with her boyfriend.\
Dan also said, "I love you, baby," in the comment. So happy we met in 2022!!!! @nicolebyer." Friends and fans wrote a lot of nice things in the comments section of her post.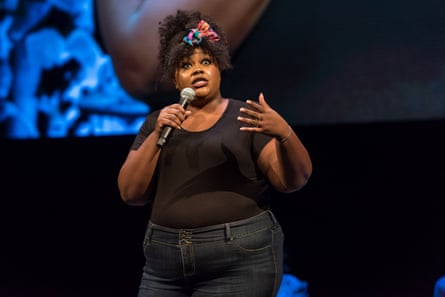 People want to know more about Nicole Byer's boyfriend Dan Black and the details of their relationship after seeing her recent Instagram post. So far, this is all we know.
Know About Nicole Byer's Boyfriend, Dan Black
Dan Black is a comedian who lives in Los Angeles. He is a sketch and improv comedian. He is a member of the improv team Death By Roo Roo and can be seen doing improv every Friday night with the UCB house team F'ed Up Family. Dan can also be seen in ASSSSCAT 3000 and at UCB doing his one-man show The Pageantry of Man.
Dan has written sketches for "Late Night with Jimmy Fallon" and "Comedy Bang Bang," and on "The Pete Holmes Show," he the voice of Ryan Gosling. He is a funny commentator on "Video on Trial" on Fuse TV, and you can also see him in ads for AT&T, KFC, Twix, Greenpeace, and Corona.
Also read: Jessie J Is Expecting Her First Child With Boyfriend Chanan Safir Colman!
Dan Black does stand-up comedy on the show "The Late Late Show" with James Corden.
You can find the comedian on Instagram under the name @danblackattack. He has more than 7500 people who follow him at the moment. He shares his videos and photos with his fans on a regular basis to keep them up to date. Also, he said in his IG bio that he was @nicolebyer's boyfriend.
Unfortunately, we don't know much about how they met or how their relationship started. But we'll make sure to let you know as soon as we find out anything new.
Know About Nicole Byer's Past Relationship
In an earlier episode of her show, Loosely Exactly Nicole, Nicole agreed to marry a man in exchange for money to help him get a green card. In a later interview, she said that this story was based on real events.
In an interview with Entertainment Weekly in 2016, she said, "In one episode, I marry a man for money, and he marries me for a green card. I can talk about it now that the deadline has passed… I don't feel any shame."
Also read: Who Is Chris Evans' New Girlfriend, Alba Baptista?
She also said, "He was a very small Indian man who wanted to stay in America, and I was a woman who owed $30,000 and wanted to keep living." Nicole never paid off her debts with the money from the fake marriage, but she was able to pay for improv classes.