Winnie Harlow is the name of Canadian fashion model Chantelle Whitney Brown-Young. She also talks to groups about vitiligo, a skin condition. In 2014, The Canadian became well-known because she was a contestant on the American TV show America's Next Top Model for its 21st season.
People say that Winnie Harlow has a great sense of style. She recently went to a basketball game that her boyfriend, Kyle Kuzma, was in. The supermodel, who is 28 years old, sat courtside with the NBA player's mom, Karri Kuzma. She wore an all-blue outfit, which makes her the center of attention for her fans. In this piece, we'll talk about her boyfriend at the moment, Kyle Kuzma. And talk about the links between them.
Kyle Kuzma's First Direct Message To His Girlfriend
Since 2020, basketball player Kyle Kuzma and Canadian model Winnie Harlow have been together. In 2019, Kuzma sent Harlow a DM, but she did not see it. Harlow said on The Ellen DeGeneres Show in June 2021, "My boyfriend sent me a DM a year ago, but I haven't seen it yet." "I don't know what Instagram's problem is, but I've never seen that before.
Also read: Who Is Jennifer Shah's Husband? All You Need To Know!
He would try again the following year. Harlow said, "He sent me another DM at the top of quarantine." "He put up a picture of me in a costume, and I was like, "Oh, hi." She would add, "After a month of being on FaceTime for 24 hours a day a month, he told me, "You've got to come to LA," and I've been there ever since. It was a year ago to the day." Harlow would join Kuzma in the bubble in Orlando, where the NBA playoffs would be held in 2020 and where the Lakers would win the title. Kuzma has been with the Los Angeles Lakers for all four years of his NBA career.
When Did Harlow And Kuzma Start Dating?
In April 2020, Harlow and Kuzma started dating. A year later, Harlow posted a sweet Instagram video of the couple kissing to mark their first year together.
In July 2021, Harlow told PEOPLE about how they first started dating. "I had just been out here with him during his quarantine, and at the time, nobody really knew," she said. "I was preparing for bed, which takes me a long time. Because I was taking a long time, he asked, "Can I cuddle with my girlfriend?" And I was like, 'Girlfriend. Okay, no problem. We're here now. I suppose that's all. Hang up my jersey.' So, that's how we started dating."
Also read: Who Is Tyrese Haliburton's Girlfriend? Complete Details!
Harlow and Kuzma were first linked in May 2020, when TMZ got pictures of the two of them holding hands in L.A. In Hermosa Beach, California, the two people and Kuzma's dog stopped at a store. When they posted their first photos of each other on Instagram in June 2020, they told everyone about their relationship.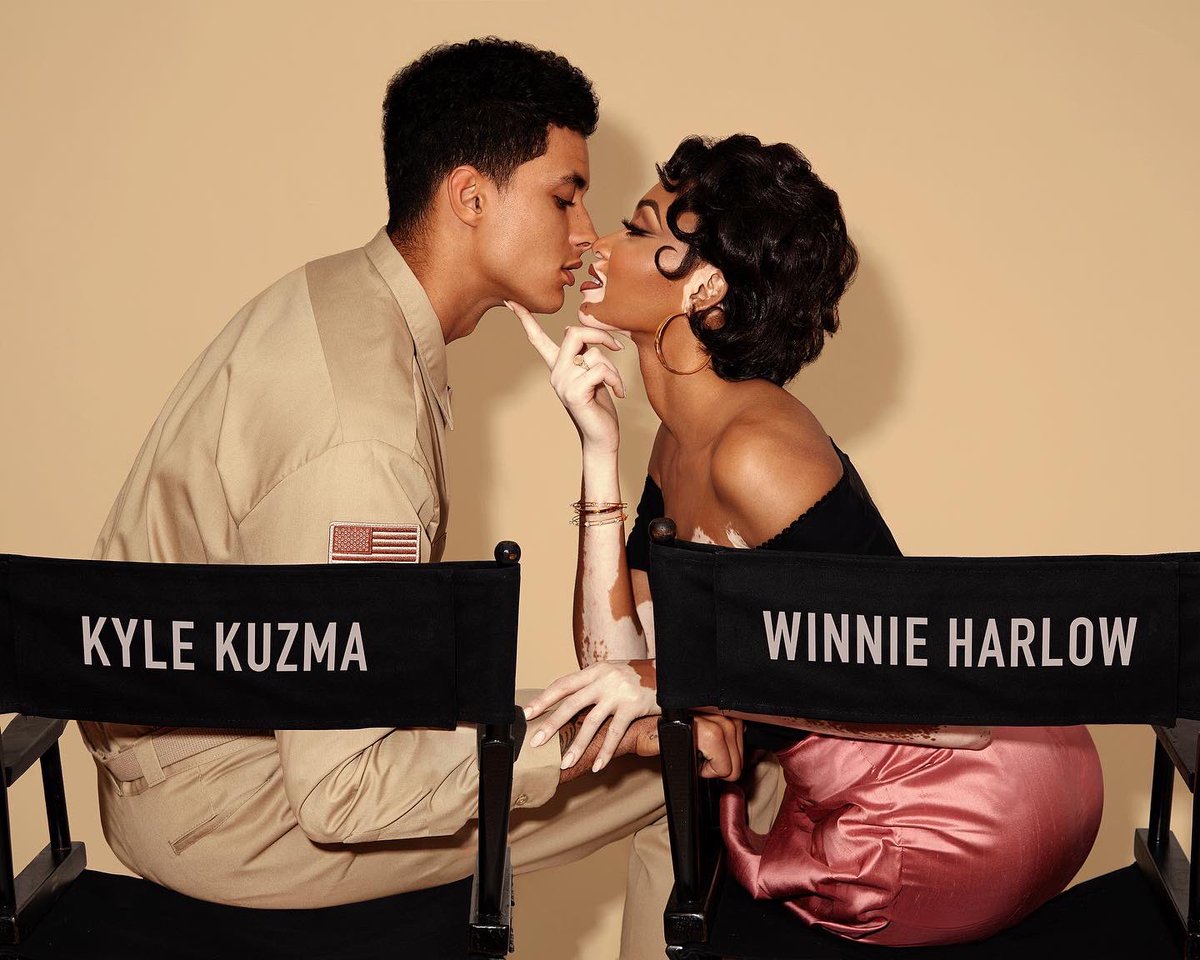 About Kyle Kuzma, Winnie Harlow's Boyfriend
Kyle Alexander Kuzma is an American professional basketball player for the National Basketball Association's Washington Wizards. On July 24, 1995, he was born. He went to college and played for the Utah Utes basketball team. In 2016–17, when he was a junior, the Pac-12 named him to the first team of all-conference players. In the first round of the 2017 NBA draft, Kuzma was picked with the 27th overall pick. The 2018 NBA All-Rookie First Team included the Los Angeles Lakers. He won an NBA championship with the Lakers in 2020 before being traded to the Wizards in 2021.