In the lead-up to their divorce, George Lopez's ex-wife reminded him that she had donated her kidney to save his life.
It was surprising to find a hilarious man like George, who came across as such a straight shooter. You'd think that after going through what he has with his health, he'd learn to cherish every moment of it. In an effort to save her husband, Ann donated one of her kidneys. In 2005, Lopez delayed the operation until after he had finished filming an entire season of George Lopez to avoid disrupting his staff in any way.
And then, the celebrity gossip website TMZ announced in 2010 that comedian and talk show presenter George Lopez had divorced his wife of 17 years. According to insiders, Lopez and his wife, Ann Serrano, who donated a kidney to Lopez in 2005 when he required a transplant, spent "a long time" hammering out the details of their divorce in order to soften the pain for their 15-year-old daughter.
"George and Ann Lopez have made the decision to end their 17-year marriage. The decision is amicable and by mutual agreement," read a joint statement from his rep. "They remain dedicated parents, and committed partners in business and their philanthropic organization, the Lopez Foundation."
If you want to know why George Lopez got a divorce from his wife after she gave him a kidney, you've come to the right place. Keep reading to find out more.
Also read: Is Scott Eastwood Still Dating Girlfriend Maddie Serviente?
Why Did George Lopez Divorce Ann Serrano?
Before Lopez and Serrano decided to call it quits, they had been together for 17 years. By Hollywood standards, their marriage was one of the strongest, so when they said they were splitting up, many people were surprised.
Even though the news was sad, it was surprising to learn that they had been working out the details of their split "for a long time" before the September 2010 announcement.
Even though there were problems in their marriage that they tried to fix, cheating accusations were the last straw that made them decide to split up.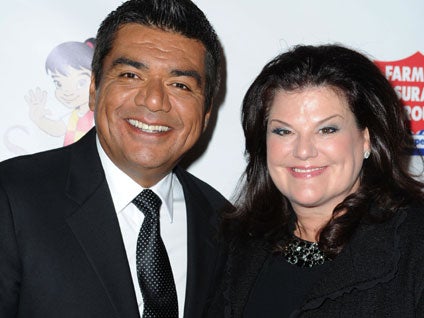 The Enquirer said that George Lopez hired prostitutes to cheat on his wife Ann. "Tiffany," a hooker out of Tampa Bay, spills:
"I had money sex with George Lopez, and so did one of my friends. He wanted a threesome, so he texted me…"
Serrano filed for a divorce, citing irreconcilable differences. Their divorce was finalized in July 2011. But for the sake of their daughter, they would stay partners in a charity foundation.
Also read: Who Is Madcap Moss' Girlfriend? Meet Tenille Dashwood AKA Emma!
Divorce is never easy, but for the comedian and his wife, it was especially hard. Serrano had given him "life," which many people took to mean that their marriage was perfect.
Lopez told Piers Morgan that he got criticism for the breakup, and even though some of it was fair, he often felt guilty because people had high hopes for their marriage.
He also said that his kidney came up when they first started talking about getting a divorce. His wife reminded him that she gave him the "gift of life" by giving him her kidney.