In 2017, the Los Angeles Rams hired Sean McVay as their coach. He is the youngest person to ever lead an NFL team. The team has done well under the young play caller, and on February 13, 2022, he became the youngest coach to win a Super Bowl. Mike Tomlin, the coach of the Pittsburgh Steelers, held the record before.
Now, Sean McVay and the Los Angeles Rams are ready to start the season and try to win the Super Bowl again.
On Thursday night, the Rams played Josh Allen and the Buffalo Bills in the first regular season game of 2022.
McVay's offseason was very busy. He got married to the woman he had been seeing for a long time, Veronika Khomyn.
Here is more information about McVay and everything you need to know about his wife, Veronika Khomyn.
When Did Sean McVay And Veronika Khomyn Meet?
In 2017, Sean McVay became the NFL's youngest head coach when he was hired by the Los Angeles Rams. But his future wife, Veronika Khomyn, saw what he could become when he was still an assistant for the Washington Commanders.
Khomyn is a Ukrainian model and real estate agent. She met McVay when she was in college in Virginia, and she's been by his side throughout his long career as an NFL coach. She shows her love for him by wearing custom gear with his face and name on it. In the same way, McVay has helped Khomyn with her career and when she speaks out for her home country.
Also read: Who Is Meghann Fahy's Husband? Complete Information!
They like going on vacations together so much that McVay thought a trip to France would be the perfect time and place to ask Khomyn to marry him in 2019. In June 2022, they got married in Los Angeles.
The Atlanta Journal-Constitution says that McVay met Khomyn between 2011 and 2013. Khomyn was a student at George Mason University in Fairfax, Virginia, at the time, and McVay was working as an assistant tight end coach for the Washington Commanders.
McVay was first put in charge of the team's tight ends and then became the offensive coordinator. In 2017, he became the youngest NFL head coach in modern history when he took over the Los Angeles Rams. This was his big break.
Know More About Veronika Khomyn
Ukraine is where Veronika Khomyn was born. He moved to the United States in 2009. She is proud of her family history and talks about it on social media. Since Russia invaded Ukraine in 2022, she has been very vocal about her support for Ukraine, calling that day "the hardest day" she's ever had.
According to her website, Khomyn has a Bachelor of Arts in international business from George Mason University and a Master of Arts in global management from Arizona State University.
Even though Khomyn is known for modeling, it's not the only thing she does to make a living. She has a license to sell and buy high-end homes in Los Angeles, where she works as a real estate agent.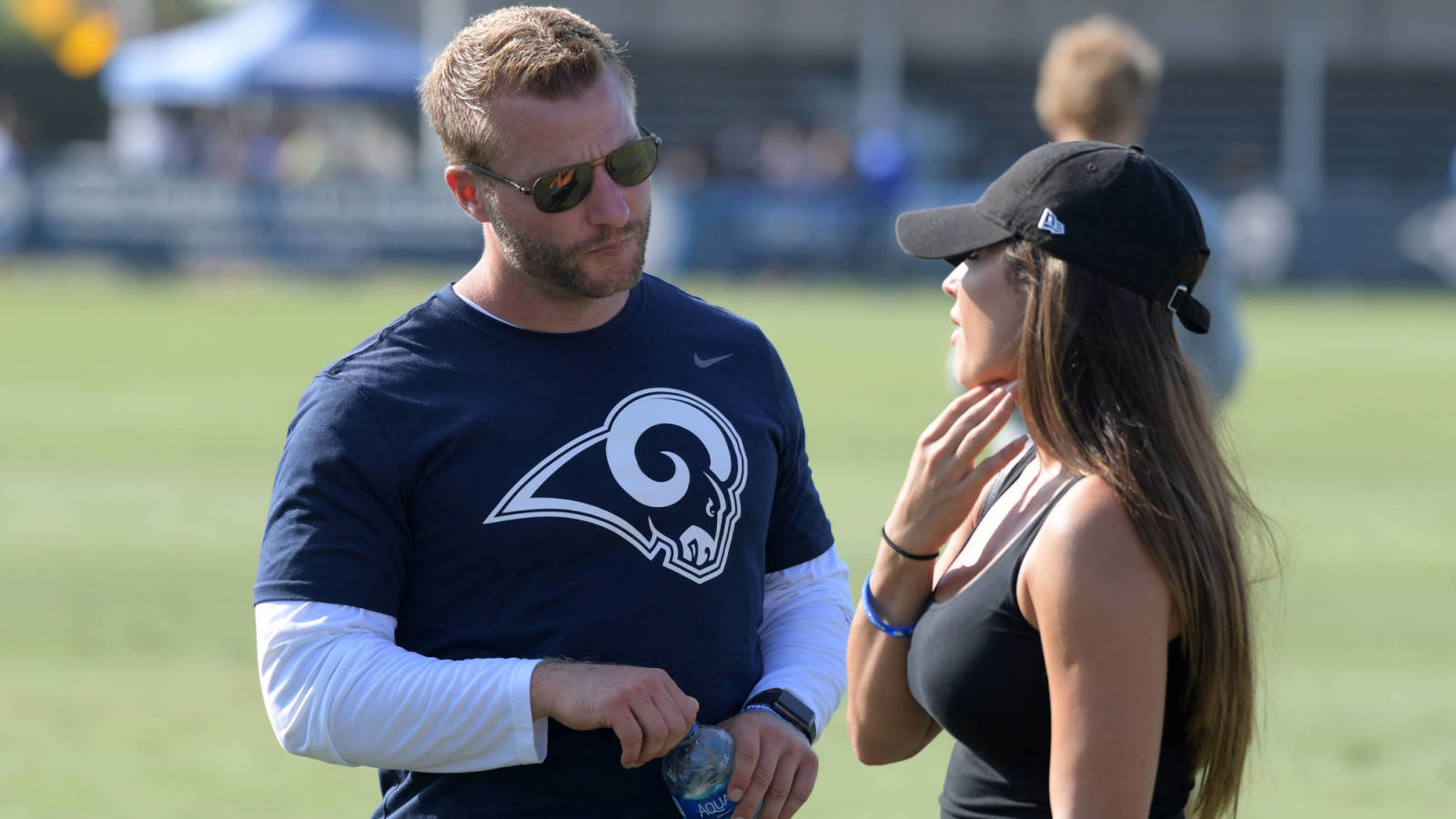 Khomyn announced on Instagram in April 2021 that she was going into the real estate business. I'm happy to tell you that I've decided to get a job in real estate. Cheers to new experiences, challenges, and memories!"
Khomym said on her website that one reason she went into real estate was that her father owned a construction business. She said that when she was young, she traveled a lot with her father. This helped her learn about different cultures and the needs of a wide range of clients.
When Did Sean McVay And Veronika Khomyn Get Engaged?
Khomyn posted a picture of her new ring to her Instagram Story in June 2019 while she was on vacation with McVay in France. She wrote next to a short video of her new boyfriend giving her a kiss on the cheek, "Can't wait to call him my husband."
Also read: Is Aaron Rodgers' Ex-Girlfriend Shailene Woodley Dating Ansel Elgort?
Then Khomyn posted a lot of pictures from Portofino, Italy, including a close-up of her engagement ring. "We've been having such a great time on vacation that I haven't had time to write this post, but… The man of my dreams, my closest friend, and the love of my life asked me to marry him… I said YES!!! to bring his McBae forever "Cheers to our life together!" she wrote in the post's caption.
Is Sean McVay And Veronika Khomyn Getting Married?
On June 4, 2022, the wedding took place at the Beverly Hills Hotel in Los Angeles. Tom Raponi was in charge of the ceremony. He used to play professional football and now works in broadcast media.
Odell Beckham Jr., a well-known NFL player, crashed the wedding, which made McVay and his mother happy. McVay said that he had only invited the team captains from last season and "a couple of other guys who are retired players," but OBJ wasn't going to miss the wedding just because he wasn't invited.
The couple's wedding cake was a copy of the Vince Lombardi trophy, which McVay won earlier in the year with the Los Angeles Rams.